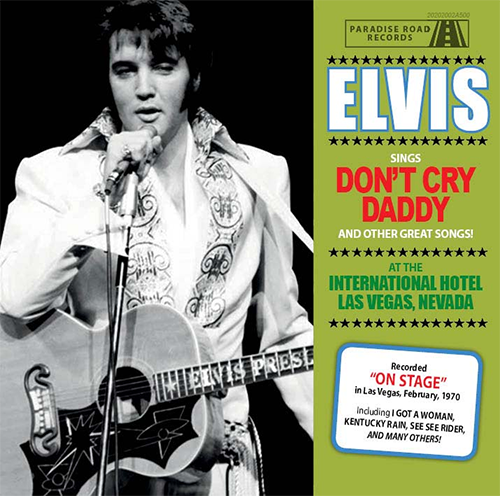 About the song
If you are a fan of Elvis Presley, you probably know some of his most famous songs, such as "Jailhouse Rock", "Hound Dog", or "Love Me Tender". But do you know the story behind one of his most touching ballads, "Don't Cry Daddy"? In this blog post, we will explore the history and meaning of this song, as well as some interesting facts about its recording and performance.
"Don't Cry Daddy" was written by Mac Davis, a singer-songwriter who also wrote "A Little Less Conversation" and "In the Ghetto" for Elvis. Davis submitted a tape with 19 songs to Elvis, who chose to record two of them: "In the Ghetto" and "Don't Cry Daddy". The latter was recorded on January 15 and 21, 1969 at the American Sound Studio in Memphis, Tennessee. The song was produced by Chips Moman, who also worked on other Elvis hits like "Suspicious Minds" and "Kentucky Rain".
The song tells the story of a man who has lost his wife, and his children who try to comfort him and cheer him up. The lyrics do not specify whether the wife died or left the family, leaving it up to the listener's interpretation. The song is sung from the perspective of the father, who expresses his grief and loneliness, while also acknowledging his children's needs. The song features a chorus of children's voices, one of whom was a future star: Ronnie Milsap, who would later become a successful country singer.
The song was released as a single on November 11, 1969, paired with "Rubberneckin'", a more upbeat and funky song that was featured in Elvis' last movie, "Change of Habit". The single reached number 6 on the Billboard Hot 100 chart and number 8 on the UK Singles Chart. It also peaked at number 3 on the Billboard Easy Listening chart and number 13 on the Billboard Hot Country Singles chart. It was Elvis' first entry on the country chart in nine years.
Elvis performed the song live several times during his second season in Las Vegas in February 1970. Some of these performances have been released on various albums and videos. However, one of the most memorable renditions of the song was a duet with his daughter Lisa Marie Presley. The duet was recorded in 1997 and made into a video, where Lisa Marie sings along with her father's original vocal. The video was presented on August 16, 1997, at the tribute concert that marked the 20th anniversary of Elvis' death.
"Don't Cry Daddy" is a song that showcases Elvis' emotional range and vocal ability. It is also a song that resonates with many people who have experienced loss or separation. It is a song that reminds us of Elvis' legacy as a singer and as a father.
Watch the song video :
Here are the lyrics of the song: "Don't Cry Daddy"
Today I stumbled from my bed
With thunder crashing in my head
My pillow still wet
From last night tears
And as I think of giving up
A voice inside my coffee-cup
Kept crying out
Ringing in my earsDon't cry daddy
Daddy, please don't cry
Daddy, you've still got me and little Tommy
Together we'll find a brand new mommy
Daddy, daddy, please laugh again
Daddy ride us on your back again
Oh, daddy, please don't cryWhy are children always first
To feel the pain and hurt the worst
It's true, but somehow
It just don't seem right
'Cause ev'ry time I cry I know
It hurts my little children so
I wonder will it be the same tonightDon't cry daddy
Daddy, please don't cry
Daddy, you've still got me and little Tommy
Together we'll find a brand new mommy
Daddy, daddy, please laugh again
Daddy ride us on your back again
Oh, daddy, please don't cry
Oh, daddy, please don't cry