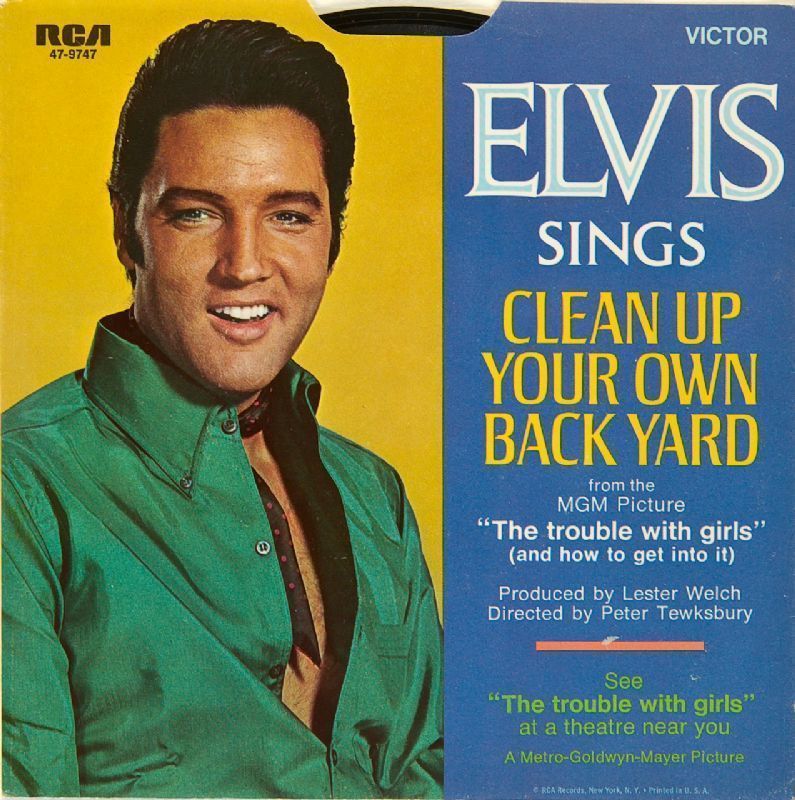 About the song
If you are a fan of Elvis Presley, you might be familiar with his song "Clean Up Your Own Backyard", which was released as a single in 1969. But do you know the history behind this song and how it relates to the movie "The Trouble with Girls"? In this blog post, we will explore the origins and meaning of this catchy tune.
"Clean Up Your Own Backyard" was written by Mac Davis and Billy Strange, and published by Gladys Music, Inc., the company owned by Elvis and his manager Colonel Tom Parker. The song was recorded by Elvis on October 23, 1968, at United Artist Recorders in Hollywood. It was one of the four songs that Elvis performed for the soundtrack of the MGM film "The Trouble with Girls (and How to Get into It)", which was released in September 1969.
The movie, directed by Peter Tewksbury, is a comedy-drama set in the 1920s, starring Elvis as Walter Hale, the manager of a traveling Chautauqua show. The film features various musical and theatrical acts, as well as a murder mystery subplot. Elvis sings "Clean Up Your Own Backyard" during a scene where he confronts a corrupt politician who tries to shut down his show. The song serves as a commentary on hypocrisy and social injustice, as well as a call for personal responsibility and self-improvement.
The song was released as a 7″ single on June 17, 1969, with "The Fair Is Moving On" on the B-side. It reached #35 on the Billboard Hot 100 and #21 on the UK Singles Chart. It also received a Gold certification from the RIAA in March 1992. The song was later included on the budget RCA Camden album "Almost In Love", which was released in October 1970.
"Clean Up Your Own Backyard" is one of the few songs that Elvis recorded in the late 1960s that had a country flavor, reflecting his roots and musical influences. The song also has a catchy chorus and a lively rhythm, making it a fun and memorable tune. The song has been covered by other artists, such as Nat Stuckey, O.C. Smith, Tom Green, Jennifer Scott, Sue Moreno, Darrel Higham and The Enforcers, and Lee Birchfield.
If you want to listen to "Clean Up Your Own Backyard", you can find it on YouTube, Spotify, Apple Music, or Amazon Music. You can also watch the movie "The Trouble with Girls" on DVD or streaming services. And if you want to learn more about Elvis Presley and his music, you can visit his official website or follow him on social media.
We hope you enjoyed this blog post about "Clean Up Your Own Backyard". What do you think of this song and its message? Do you have any other favorite songs by Elvis Presley? Let us know in the comments below!
Video